The Village Community Centre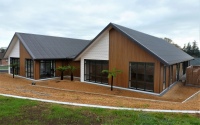 The new modern Community Centre complex was completed in April 2019 - a much needed and long-awaited addition to the village. It was the vision of the founders of Tasman Village more than 28 years ago to create a warm and social space for all. The new Community Centre is the heart of the community and everyday there is something happening allowing our residents to join in and enjoy life in Tasman Village.

Our Community Centre is 450m2 giving us plenty of space to enjoy meeting with each other, playing cards, snooker, bingo, rummikub, exercise class, indoor bowls, birthday parties and more. It will includes multiple rooms where more than one function can occur at the same time, along with a spacious kitchen, reception area, office and its central location gives a great view!

There are plenty of opportunities to make friends, or meet with old ones – while those that prefer privacy are free to choose if (and when) they would like to be a part of what the village offers.


Back...