Homes and Sites for Sale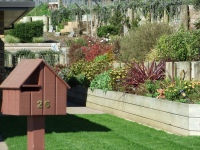 We have another Spec Home under construction, and is due to be finished mid 2018. This lovely 2 bedroom home is situated at site 37 and is available to purchase for only $520,000.
Our final stage of development is now completed and the sites have sold very fast.

Villas and sites for sale
The only site left in our final stage is site 37 where our Show Home is to be built. If you are interested then please contact us as soon possible so that you don't miss out.

Private sales within the village
Villa 13 - this is a lovely, spacious 2 bedroom villa with an ensuite as well as a bathroom. It also has a private, sunny garden. Priced at $435,000
Villa 78 - this is a delightful home with 2 spacious bedrooms, road frontage views and is centrally located in the village. Priced at $398,000


PLEASE CONTACT THE OFFICE IF YOU WOULD LIKE TO VIEW ANY OF THESE HOMES.

We would be more than happy to arrange a time for you to see through the village - just ring the office and we will arrange a time that suits you.
Or, if you would like more information please contact the office and we can send you an information pack and answer any questions you may have.
Back...