Homes and Sites for Sale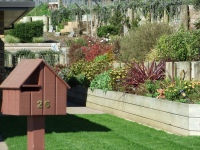 We have another Spec Home under construction, but unfortunately it has sold already. Our final stage of development is now completed and the sites have sold very fast.

Villas and sites for sale
The are no more sites available currently, however, the final two sites of the village are likely to be available in 12 months time.

Private sales within the village
Villa 78 - this is a delightful home with 2 spacious bedrooms, and has been redocorated throughout with new paint and new carpets. It has road frontage views and is centrally located in the village. Priced at $421,000
Villa 77 - this is a spacious home with 3 bedrooms, 1 large bathroom and a tidy interior and is situated on an elevated site. Priced at $460,000
Villa 86 - a very spacious home with 2 bedrooms, 1 large bathroom, double glazing and a tidy interior. Priced at $460,000


PLEASE CONTACT THE OFFICE IF YOU WOULD LIKE TO VIEW ANY OF THESE HOMES.

We would be more than happy to arrange a time for you to see through the village - just ring the office and we will arrange a time that suits you.
Or, if you would like more information please contact the office and we can send you an information pack and answer any questions you may have.
Back...